The old sounds of Maramures, discovered by an anthropologist and electro reinvented in the purest contemporary sound, from Ambiental to trance, will be heard in the Large Square in Sibiu, Thursday, July 27th, from 22:00, in the opening of the Sibiu Festival City: East European Music Conference program.
The Deep Sound of Maramures project is an academic experiment, translated into music, applauded in Paris and The Hague and will b presented for the first time in Sibiu during the free concert series that will mark the reunion of European music industry representatives in Romania. Joining this show, with an amazing video performance, will be Cinty Ionescu, an artist who projects micro and macro universes, made-up worlds that potent or counterpoint the music. The Deep Sound of Maramures and Cinty Ionescu will triumphally close a gala evening in which other concerts from international artists are scheduled: the Dutch band My Baby and the Brit Alex Clare.
Age-long beats, mysterious, carrying though time their full of force messages are gliding in in rounds of progressive trance or psy, just to get lost in an ambient of sequences of acoustic piano or experimental electro-dance. The Deep Sound of Maramures, a premiere project for The Hague and appreciated in Paris or in transmissions for London and New York universities, proposes a hybrid interdisciplinary approach, being a new way of presenting some academic studies: selected from the infinite array of possible natural sounds, the sounds gain new understandings, finding an unexpected spot in the most available area of the acoustic area: music. Project or promoting regions through culture, The Deep Sound of Maramures proposes a new concept that combines multiple elements, from the audiovisual show to documentary movies sequences and e ethno-anthropological research about the old culture of Maramures. The show includes interventions from reputed ethnologic artists, like the instrument player Stefan Andreica from Viseul de sus or the dancers of "Ansamblul Maramuresului" lead by PhD Anuta Pop.
The Deep Sound of Maramures project fascinates firstly because it represents an extraordinary bridge between tradition and innovation. The sounds, made by traditional instruments are processed and transformed, lead towards their modern correspondents, created with the help of the newest technologies, all this included in an avant-garde performance, innovative and interactive. The chemistry created between all these components is hypnotizing, and Peter gate has an unwonted and creative artistic approach.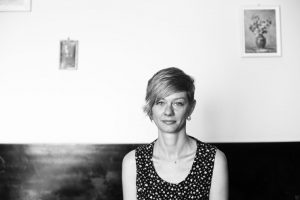 After they have presented this project in Bucharest, in a partnership with Taiwanese researcher Jia-Rey (Gary) Chang, PhD in interactive architectural design, famous, among others, for a remarkable presentations at the Mercedes Benz Amsterdam Fashion Week 2016, The Deep Sound of Maramures comes to Sibiu with Cinty Ionescu, artist interested in video experiments and interdisciplinary hybrid collaborations. Awarded an excellence award for video design by Fringe New York City, Cinty Ionescu has signed visual avant-garde installations for projects hosted by the Romanian Cultural Centre in New York or different theatres or exhibition spaces in Europe.